Trane Thermography is one of six solutions in the Trane Building Advantage Reliability services portfolio.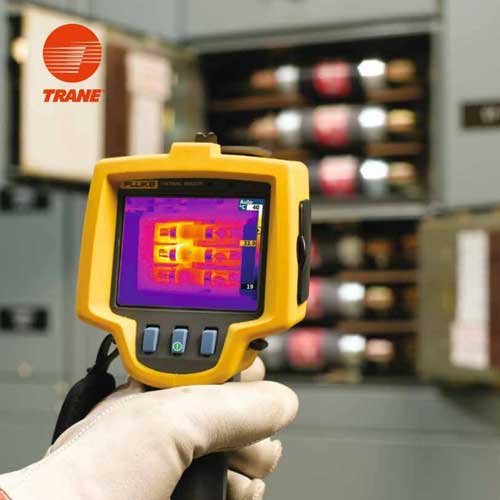 This non-intrusive technique can help optimize reliability and efficiency.
Innovation leads to better equipment diagnosis.
Today's competitive environment calls for greater equipment reliability and lower operating costs. Achieving both requires innovative and proven diagnosis along with corresponding solutions that produce real cost savings quickly. When it comes to diagnosis tools, it's hard to beat the effectiveness of Trane Thermography. Trane Thermography is a non-invasive, safe and proven predictive service that detects potential risks in electrical and mechanical equipment. Plus, because your plant can remain up and running, you'll have a clearer picture of where potential breakdowns are hiding, before it's too late.
A snapshot of equipment components Differences in temperature are key elements in monitoring equipment. As thermography captures an object's heat signature, it creates a two-dimensional color image of the equipment components. That image will then be used to compare a good component to a problematic one and detect any potential risks. Thermal imagers can also store heat signatures for comparison and upload images to a database.

Trane Thermography is perfect for electrical inspections – as well as mechanical inspections. For example, as electrical connections become loose, there is resistance to current that can cause an increase in temperature, which means energy is wasted generating heat. As a result, components can fail, causing unplanned outages and even injuries. Through Trane Thermography, however, potential hazards the human eye can't see become crystal clear.