The requirements of your building are changing at a speed faster than ever before.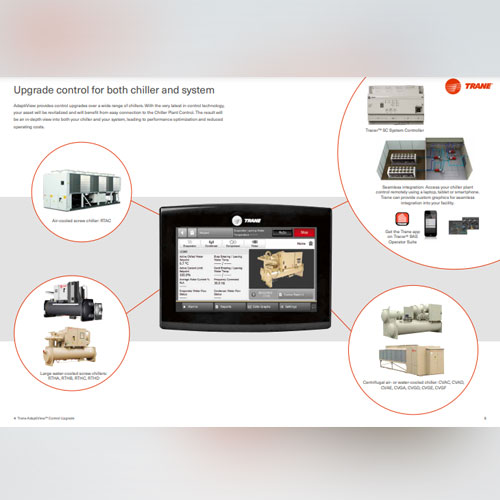 Occupants are now concerned about the air quality and sustainability of your operation while local and national regulations around efficiency and refrigerants continue to evolve. At Trane, we can help you with everything from turnkey building upgrades and retrofits to ensuring you are operating on the most up to date control system. We are well-versed in regulations and rebates to help you achieve your goals and can find ways to apply our newest technologies with minimal disruption to your daily operation.
Increased productivity and efficiency… the key is Control
A better managed chiller for a better managed building.
Your HVAC system accounts for nearly 45% of your building's total energy costs. Any facility manager would like to control those costs more effectively, if they could. AdaptiView™ helps operators keep their chiller plant running at maximum efficiency, thanks to a graphical user interface that provides a deeper understanding, along with quicker response times. While you are reducing your costs, the occupants of your building will be enjoying extra comfort. That's what expert chiller control is all about.
Upgrade to the latest control technology
AdaptiView upgrade is a comprehensive retrofit package for your Series R™ chillers, models RTHA, RTHB, RTHC or RTHD. The upgrade package includes everything you will need to migrate to the most advanced chiller control technology available. The upgrade package includes an AdaptiView display, UC800 controller, swing arm mount and door panel.
Upgrade to full connectivity
Upgrading to AdaptiView enables you to connect with the most recent Trane Chiller Plant Manager. This allows you to take full advantage of the advanced control technology that AdaptiView provides. AdaptiView is able to communicate via the latest open protocols: BACnet™, LonTalk® and Modbus.