Trane Chiller Plant Manager, Trane Building Management System and Trane Energy Management Systems and Services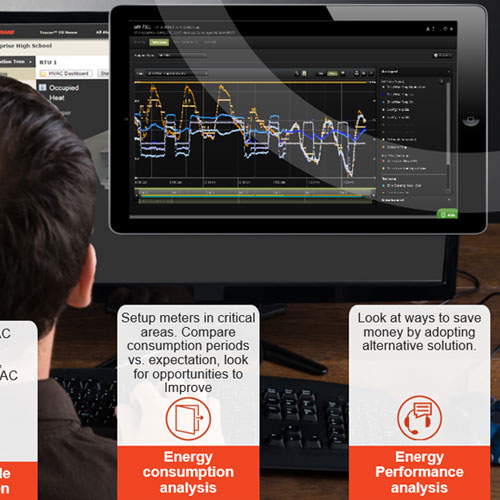 Tracer® chiller plant control benefits from decades of proven experience. Our patented algorithms have been developed using a combination of comprehensive modelling tools, lab experiments, and real-world installations. The approach we apply today has evolved over several generations of Trane® control platforms. Trane delivers efficiency gains by applying our industry leading system knowledge to virtually every aspect of chiller plant operations.
Chiller staging
Pump pressure reset
Chilled water reset
Chiller/tower optimization
Enhanced cooling tower staging
Thermal storage integration
Connect to your building's highest potential
Buildings are full of hidden potential to be more comfortable, more sustainable, and more influential to your mission. Trane controls taps into this potential by making the connections between technology and people more intuitive and complete.
Consistency + Customization
Tracer SC+ is designed to deliver high performance systems, consistently. Trane delivers its proven systems knowledge to every job through comprehensive, factory engineered applications. These applications improve quality and are fully-documented to simplify ongoing operations and service. Each application is customizable to allow for fine-tuning to meet the unique needs of each job.
Existing + Future
Tracer SC+ includes support for equipment from all generations. Built on a foundation of open, industry-standard protocols, including BACnet, LonTalk, and Modbus, Tracer SC+ provides robust support for Trane and non-Trane equipment. Legacy Trane and non-Trane proprietary equipment can be integrated through a simple communications bridge, allowing you to replace legacy equipment on a schedule that fits your budget.
Flexible + Optimized
Trane has the ability to go significantly beyond traditional HVAC systems to optimize comfort and lifecycle costs. Lighting systems, energy meters, VFDs and more can be utilized to provide more advanced algorithms. Tracer SC+ provides a robust backbone for even the most complex systems.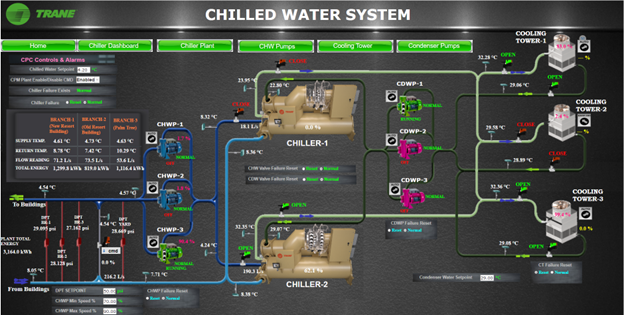 Trane Intelligent Services Aggregates data collected in a building. Provides tools to make real-time, near term, and long term decisions that maximize the way buildings are managed and maintained.
Building Performance
Identifies anomalies to improve comfort, reliability and energy savings.
Energy Performance
Uses utility data to identify areas where energy intensity can be reduced in the building.
Active Monitoring
Monitor, trigger and dispatch services to respond to BAS alarms.
Energy Assessment
Helps customers visualize total energy usage from utility's interval smart meter data.
Secure Remote
Access Secure remote access to control systems; firewall friendly, built on IT standards.